West Cape Coffee
Coffee Beans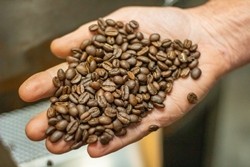 Roasted to order - please contact the winery to purchase 08 9892 1444 or EMAIL us
West Cape Coffee provides an alternative for coffee lovers in their search for quality.
Roasted locally in the Great Southern at the winery - We're the only coffee roasters utilising the skills and palate of award winning winemakers in the selection of premium beans. We have combined the skills of winemaking with a love of coffee to create a uniquely flavoursome and balanced coffee ready for your enjoyment.
We offer high grade single origin coffees from all over the world, suitable for both plunger and espresso. Our Cafe blend is ideal for espresso based drinks, a well balanced blend of Arabica based on high grade Ethiopian beans.
Roasted to order (Tuesday is our roasting day), each batch displays the roasting date which is yet another way we guarantee the quality and freshness of our coffee.